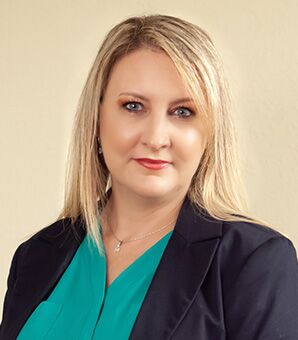 PRE-SUIT MANAGER AND PARALEGAL
Kim Carter was born in Columbus, Ohio, but was raised in Hollywood, Florida. She graduated from South Broward High School with Honors and attended Broward College, where she earned her Associate of Arts and Associate of Science degrees in Legal Assisting/Paralegal Studies. Kim became a Certified Paralegal in 1996 by passing the NALA (National Association of Legal Assistants) National Examination.
Kim's passion is to help clients by guiding them through the legal process with a caring, personal touch while fighting for justice on their behalf against insurance companies.
Kim has been married for 25 years and has two beautiful children, ages 18 and 12. Kim's daughter is a Business Major at FAU and a member of Sigma Kappa Sorority, while working part-time as a legal assistant in the Justice Law family. Kim enjoys watching her son grow as a basketball player, a sport he has been passionately involved in for 7 years, as well as running track, which is a newly discovered passion. Kim and her husband enjoy traveling to the Smoky Mountains of Tennessee, where they hope to retire someday. Kim joined the firm in May 2017.
Kim has 25 plus years of plaintiff personal injury paralegal experience in both pre-litigation and litigation, with an emphasis on case evaluation and analysis from a liability and injury standpoint. She has extensive expertise in handling all types of personal injury cases, including motor vehicle accidents, slip/fall and premise liability, wrongful death and traumatic brain injuries.